the Way Into the New Generation! W.I.N.G!
We are interested in international exchange with other institutions, organizations and people on all levels. Please feel free to contact us with any ideas and suggestions. We also welcome visitors, volunteers and foreign working holiday staff.
About us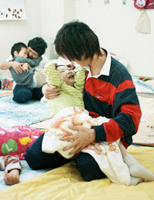 NPO WING is a charitable organization in Osaka/Japan, which makes various offers to persons with mental, physical and multiple disabilities.
The name NPO WING stands for Non Profit Organization – the Way Into the New Generation and points out our aim to break new ground in the Japanese social and welfare work and to open the Japanese society for the concerns of all people.